You don't need an upholsterer if you are looking to change the color or pattern of your chairs, whether it's a dining chair or an occasional chair. Here is a guideline on how to make your own pattern so you can create your own chair covers.
Do you have any chairs in your house that you truly love but needs a little updating? This is something that you may be familiar with if you love garage sales and have a habit of purchasing furniture with no core theme. You end up with the most comfortable chairs in your house, but their patterns won't match your décor.
What should you do? Well, the best thing that you can do is to create fashion chair covers for them. While you still love the original upholstery of your chair, you can't deny that it requires a bit of updating so it can fit in with the rest of your living room.
So now you've decided that you want to update your chair covers, however, you don't know how to make a pattern. Creating simple slipcovers is much easier than you've expected.
How to Make Your Own Simple Chair Covers
This project is intended for chairs that have a classic L-shape. However, it can also work for parson style dining chairs. If you have other styles that you want to update, you can still follow these steps, however, the measurements may not be as simple.
Measure the Chairs
The first thing to do is to measure the chairs so that you will have some idea on how much fabric you're going to need for the project. As a reminder, if you choose a fabric that has a big pattern, then you might want to match up the lines. Because of this, you will be needing additional fabric to move your pattern around.
Start measuring from the bottom of the back of the chair, then go all the way up and continue around, and then down to the front. Then you need to measure every side, which is the "L" pieces. Afterward, try to figure out how all of these pieces will fit in one cut of fabric.
Choose Fabric
The next thing to do is to choose the fabric. You can practically choose any type of fabric. However, choosing heavy duty upholstery fabric can help in retaining its shape and at the same time, it can withstand wear and tear from your pets and kids, as well as your rowdy guests. After you have chosen your fabric, you must choose a spool of thread that will match this.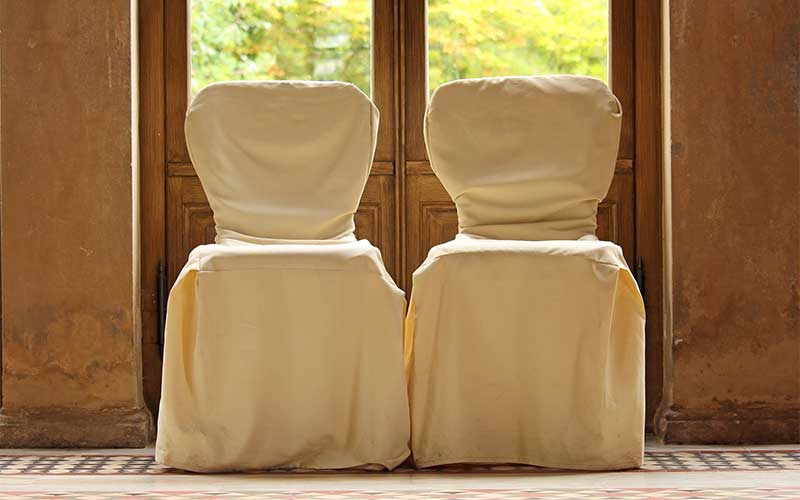 Make A Pattern
Now, it's time to create your pattern. It doesn't have to be too technical or daunting. All you have to do is apply the measurements onto your fabric. At the back part of the fabric, mark the measurements using a pencil or chalk. Always consider the design of your fabric with marking them. Also, try to leave some inches at the bottom part of the chair so you can put a hem on the entire piece.
Cut the Fabric
Now it's time to cut your pieces. When cutting out your pattern, you have to leave approximately one inch around every edge. This will be your seam allowance. This can help in preventing the seams from unraveling.
Fit and Pin the Pattern
Turn your fabric upside down then lay them on your chair. Pin the pieces together by using straight pins. As much as possible, keep the pins closer to the chair, in this way, you can obtain a nice tight fit. Use pins every couple of inches. When pinning, simply follow the contours of your chair.
Sew It Together
By using your sewing machine, you need to stitch the lines where you put your pins. Pull each pin out as you sew. If you don't like sewing, then you can ask a friend to come over and help you with the sewing!
Fit and Adjust
Finally, it is time to fit the cover onto your chair. If there are some areas that are too loose or too tight, then you have to restitch them. This may sound too frustrating, but this is not really so bad. Hopefully, these are just minor adjustments.
Hem and Trim
If the cover fits well, then you can hem the bottom of the entire skirt. All you need to do is fold over the fabric twice toward the inside then make a stitch.
If you're looking for the right kind of fabric for your specific needs, Spandex Warehouse offers different types of fabrics for chair covers. For more information, you can call us at 213-629-7416 or send us a message at [email protected]. Feel free to reach out to us today!